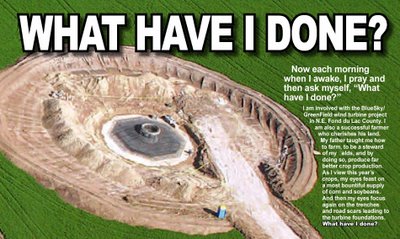 The following compelling message appeared in a verified advertisement run in the October 25, 2007 issue of the Chilton Times-Journal in Wisconsin. It was written by Don Bangart of Chilton, Wisconsin following a 2-hour interview with a landowner in Northeast Fond du Lac County. The landowner, who wishes to remain anonymous, approved the text for publication:

I am involved with the BlueSky/Greenfield wind turbine project in N.E. Fond du Lac County. I am also a successful farmer who cherishes his land. My father taught me how to farm, to be a steward of my fields, and by doing so, produce far better crop production. As I view this year's crops, my eyes feast on a most bountiful supply of corn and soybeans. And then my eyes focus again on the trenches and road scars leading to the turbine foundations.

What have I done?
Click here to to view a PDF copy of the ad or here to read the full text.
Labels: Disadvantages